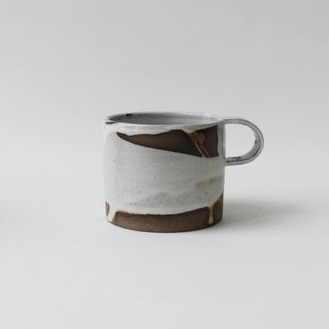 Stoneware Splash Mug
Hand-thrown stoneware mug, made by Lily Pearmain. A generously sized mug, with a simple shape simple shape, designed to be comfortable to hold while still looking refined and beautiful.
Hand thrown with a dark stoneware body and a splashed glazed exterior, and fully glazed on the inside. Dishwasher and microwave safe - however it is recommended that you hand wash with care.
8cm (H) x 9.5cm (D) approx.
Please note that as all pieces are individually handmade the splashed glaze on each does vary considerably, making each one a truly one-off piece.
Read more about the maker below
Lily Pearmain
London, UK
Lily Pearmain makes contemporary ceramics by hand, using traditional methods.
She studied Russian at UCL before turning her hand first to sourdough baking, and then on to pottery. Whilst baking, Lily became interested with the processes involved in making, and this approach is evident in her ceramic work today.
Driven by experimentation and new processes and approaches to clay as a material, her work is clean and contemporary and often focussed on simple forms. She works predominantly on the potters wheel, even for sculptural pieces, and favours minimal glazing.